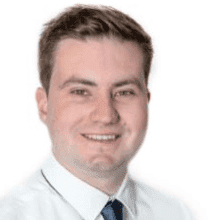 Dr. Mitchell Cook Mitchell is a caring and dedicated Chiropractor
Growing up in Melbourne, Mitchell was no stranger to exercise and health, participating in a range of sports, including basketball, cricket, football, athletics and swimming. This meant that from an early age, he understood the importance of a well-functioning spine and musculoskeletal system. Mitchell's passion for health continued through high school, when he received his first Chiropractic adjustment. This is when he knew he wanted to become a Chiropractor.
Since graduating from the RMIT Chiropractic five (5) year double degree; Mitchell has attended seminars on SOT (Sacro-Occipital Technique), Activator, paediatrics and other technique sessions. During his studies and extra-curricular activities, Mitchell has developed a strong interest in anatomy and joint biomechanics, as well as a passion towards helping others. He is willing to go above and beyond to ensure patients reach their health goals. He is the principle chiropractor of the Werribee and Sunbury practices.
Mitchell is a great asset to the team, with experience treating patients in an aged care facility, and other clinics in Collingwood and Norlane. Through this, he has been exposed to an array of musculoskeletal conditions and presentations, and has learnt about their management. He is also a member of the Golden Key Society
When Mitchell isn't in the world of Chiropractic, he can be found drooling over cars he can't afford, exploring Melbourne and travelling.