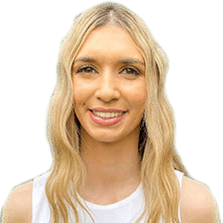 Dr. Olivia Kuczynski
Olivia is a focused and passionate chiropractor using a wide variety of chiropractic techniques including manual adjustments, drop piece, pelvic blocks, activator and rehabilitative techniques to help create the best treatment plan for you as there is no 'one size fits all'. Olivia has also undergone further study in the SD Protocol, the Sacro Occipital Technique and Activator Methods. 
Olivia grew up in country Victoria before moving to Melbourne to complete her studies at RMIT University Bundoora where she obtained a double degree of Bachelor of Health Sciences and Bachelor of Applied Science (Chiropractic).
Olivia is passionate about helping her patients reach their fullest potential, live a healthy lifestyle and get them back into action so that they can achieve their goals.
Olivia had suffered from headaches growing up that stopped her from many activities  but were resolved with the help of Chiropractic care. Olivia hopes to help others so they don't feel held back in life. 
Outside of work, you will find Olivia going for runs, working out in the gym, with friends or family or just finding the next best place to eat!
Olivia is available in our Richmond clinic full time Monday – Saturday.