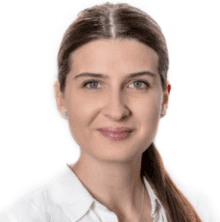 Dr. Natalia Miletic Natalia is available for consultation in Point Cook on Tuesday, Thursdays and Saturdays
Dr Natalia Miletic is a Senior Chiropractor at the Point Cook practice.
Originally from Mt Macedon, Victoria, Dr Natalia is a Central Queensland University Chiropractic graduate who is passionate about all things health and wellness.
Natalia is experienced in the Sacral-Occipital Technique (SOT), Gonstead,  Diversified Technique & Activator Methods. Natalia has a strong focus on Chiropractic applied with  rehabilitation programs, to look at symptoms as well as their cause. She has undertaken further training in children and women's health, including pregnancy and paediatric studies. Natalia has previously worked at clinics in far north Queensland, Mackay and in Middle Park.
When not at our practices Natalia enjoys traveling, yoga and spending time with her family. She also loves being involved in the wider community and spends time at St Kilda Mums and Collingwood running group.
Natalia is available for consultation in Point Cook on Tuesday, Thursdays and Saturdays
To make an appointment with Natalia call  1300 123 365